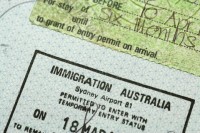 Immigration Property
Valuations
An application for a temporary or permanent residency visa can require you to have your property valued. The immigration department or your agent will require you to provide a formal written valuation report with current fair market value on your residential properties in order to assist and comply with your application for citizenship.
It is critical for you to prove to the Immigration Department that your property asset is valuable and worth as much or if not more than you initially paid.
It is my goal to help you obtain a fair market value report that supports your application and improve your chances of gaining a visa.
I am experienced with these matters and have helped many clients with these types of applications and immigration issues. Whether you are dealing direct or using an immigration agent I can ensure that you will received the best service and highest possible value on your property.
My valuation reportshave always been accepted by the Department of Immigration and Citizenship so you can have confidence when submitting your visa application.
For further details call me on 03 9811 7099 or email me direct for an instant quote.
CERTIFICATIONS:
LICENSED/CERTIFIED PROPERTY VALUERS.
ASSOCIATE MEMBER OF THE AUSTRALIAN VALUERS INSTITUTE.
OVER 16 YEARS' EXPERIENCE IN VALUING PROPERTY.
UNIVERSITY QUALIFIED VALUER – BACHELOR OF BUSINESS (PROPERTY) VALUATIONS.
IN EXCESS OF 7500 RESIDENTIAL AND COMMERCIAL PROPERTY VALUATIONS CONDUCTED.
CLIENTS - PAST & PRESENT:
THE GENERAL PUBLIC.
THE COMMONWEALTH BANK, NATIONAL AUSTRALIA BANK, ANZ BANK, WESTPAC BANK & CREDIT UNIONS.
SOLICITORS, LAWYERS, ACCOUNTANTS, EXECUTORS OF ESTATES.
IMMIGRATION AGENTS/DEPARTMENT & THE AUSTRALIAN TAXATION OFFICE.